<! Top of page logos and heading>

---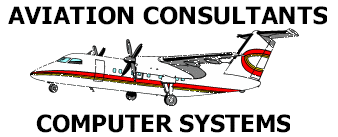 <! Main body of text about zenner>

Who Are We.....?
We are Zenner Ltd in the UK and are affiliated with Zenner Aviation Inc in Canada. We have been in business since 1984 supplying Aviation Companies with Consultancy expertise and Computer Software.
The Principals of the Company are John Dias and Fay Neville, both 'aircraft people' themselves with considerable time and experience in the Aircraft industry.
Our mission objective is very simple: 'We want to provide you with a reliable solution to your Computer System'.

What Do We Do.....?

We are the Authors of CAFAM - an Aviation Software Package written specifically for the Aviation Industry. Our combined knowledge, expertise and appreciation of the unique aspects of the Aviation Business has been used in the development of CAFAM - a Program used world-wide by Aircraft Maintenance Organisations and Parts Stockists/Brokers.
We can supply a total solution to your Computer requirements - one Supplier for both Software, Hardware & Maintenance, where we are able to supply in addition to our own Software, Networks, CD-Servers and Printers together with On-site Maintenance.
We are also able to provide Aviation Consultancy, our speciality being Surveys and Appraisals of Aircraft for both Buyers or Sellers. We are experienced in the Certification requirements for the UK, US, Caymen and Bermudan Civil Aviation Authorities.
---
<! Bottom logos and numbers>

CALL US NOW



---

Click here to email us directly
(C) Copyright 2003 Zenner Limited (UK) / Zenner Aviation Inc (Canada)
Original page design by :- Futurescope Computers Limited
All Trademarks Acknowledged